QIRIXÊN RÊZDAR,
DÎNEN RÛMETBILIND
Qirix, dîn, ên ku aqilê xwe winda kirine û bûne "qencên Xwedê", ên ku bi dînitiyê bûne "welî"… Herçiqasî tu kitêbên dîrokê behsa wan nekin jî ew bi sedemên he/bûna xwe, bi şopên ku li pey xwe hiştine, bûn parçeyek ji nasnameya bajêr a Diyarbekirê.
Nivîskar Şeyhmus Közgün pêşî, bi wateya xwe ya ku pêşî tê bîra mirov qirixên ku ji qebedayiyan¹ cuda ne, çanda ku bi wan re rû daye anî zimên. Paşê jî ji "dînên" bajêr ku nayên jibîrkirin, ji wan "weliyan" guldesteyek çêkir ku di hebûna wan de keramet heye.
¹ Nîşeya wergêr: Herçiqasî peyva 'kabadayı'yê di ferhangen de wekî 'bêge, qubede, dîlawer, mêrxas, taqa û hwd' derbas bibe jî ji ber ku di nav civakê de bêhtir bi awayê 'qebedayî' tê bikaranîn, min jî ew tercîh kir.
Gava behsa çanda taxan a Diyarbekir tê kirin, kûçe û kolan tên bîra mirov. Kolan û kûçe bo qirixan herêmên sînorê wan xêzkirî bi bîra mirov dixin. Qirix kî ne? Hinek ji wan re dîbêjin "keko", hinek jî dibêjin "gedê bajêr".
Li Diyarbekira berê bi çavekî cihê li wan kesan dinêrîn ku li pişta qels û feqîran bûn li taxê her kesî guhê xwe dida wan. Taxê rêz li wan "qebedayiyan" digirt û ji wan hez dikir ku ji kesî neditirsiyan û gava diqewimî bo her cure derd û belayê digotin "li ser serê me". "Racona" wan ew bû ku bi awayekî edebî çavê xwe li kolanan bixin, li hember tu kesî bêedebiyê nekin û li hember jinan rêzdar bin, tu qisûrê nekin. Tu dibêjî qey axaftina wan, meşa wan, sekna wan cuda bû. Ji xulqê ve serhildêr, îsyankar bûn, di bin çavan re awirek vedidan û bi wan çavên ku digotin "Xêr e" li derdora xwe dinêrîn.
Qebedayî, serserî, qirix… Herçiqasî hemû hevdû bi bîr bixin jî qirix û çanda li dor wan avabûyî ancex bi nûansan bê fêmkirin. A ku li ber çavê Diyarbekiriyan wan ji zordestên bajêr cihê dike ew bû ku qirix berî her tiştî rewşa dîrokî, civakî, çandî baş dibînin û ji koçê bigire heta zordariyên siyasî, ji zehmetiyên aborî bigire heta şer û pevçûnan berpirsiyariyekê hîs dikin. Di nav van hemû şert û mercan de qirix, ew fîgûr in ku pêwîst be piştevaniyê dikin pêwîst be edaletê saz dikin.
Pêkan e qirixek, gava yên taxê di xewê de wekî nobedarekî bigere, di dawetan de li dîwanê rûne. Carina dikevin navbera dijminan wan li hev tînin, carina bi destê xwe "ceze li hinekan dibirin". Ji ber vê jî bi hin cure sebeban riya qirixan bi pergala hiqûqê jî dikeve.
Nasnav bi taybetî bo kesekî tê bikaranîn, ji ber ku her nasnav bi keda destan hatiye wergirtin an jî ji aliyê hinekan ve bi sebebekê hatiye gotin. Cenneh, Sator, Bozo, Kinê, Aluce, Eqrep (Dûpişk)… Nasnav girîng in.
Selax Seîd
Selax¹ Seîdê ku yek ji van şexsiyetên girîng e, salên 1880yan li Diyarbekirê ji dayîka xwe bû. Berî ku bibe qebadayiyekî navdar rastî jî selexaneyê (mezbeha) dixebitî.
Xelkê jê hez dikir û rêz lê digirt. Lewra gava meseleyeke ne xweş rû dida diket navbera her du aliyan û nedihişt mesele mezin bibe. Xwedî li feqîran derdiket. Tew Mustafa Gaziyê ku di kitêba xwe de herî zêde li ser mijara qirixan zîq bûye, dibeje; Selax Seîd ji dewlemendan re name nivîsandine û bo ku li feqîran belav bike zêr xwestine û wî wekî kabûsa dewlemendan dide nasîn.
Serê Selax Seîd hem bi sazûmaniyê hem bi yên din re di belayê de bû. Gazi dibêjê, piştî firariyeke dirêj gava Selax Seîd ji aliyê hêzên ewlehiyê ve tê girtin wî ji Pira Dehderî wer kirin û xeniqî. Berî bê kuştin helbestekê jî ji hevalên xwe re dihêle.
Min kon veda li deştan
Tim bûm kelemê çavan
Hevalno va ye diçim
Diyarbekir bimîne ji we re
¹ Selax: Ê ku karê serjêkirina ajalan dike.
Yahûdî Yunus
Nivîskar Migirdîç Margosyan qebedayîtiyê ji hev cihê dike. Kesin hene li wan mirovan radiselitin ku hewl didin di nav kul û derdên dinyayê de debara xwe bikin û vê bo berjewendiyên xwe dikin. Û hinek jî hene li pişta wan mirovan disekinin û gava pêwîst be li hember wan qebedayiyan derdikevin ku ev anîne serê wan. Li gorî Margosyan, Yahûdî Yunus (Yunusê Cihû) ji rêza duyem e. Bandorkeriya wî ji cil û berg û sipehîtiya wî an jî hêza wî ya pevçûnê nayê. A girîng ew e ku çiqasî wêrek e û li pişta kê disekine.
Sala 1948an bi damezirîna Dewleta Îsraîlê re Taxa Cihûyan a Diyarbekirê ber bi valabûnê diçe. Xanî bi mirîtî tên firotin û bo rêwîtiyeke dirêj amadekarî tê kirin. Margosyan gava behsa şahidiya xwe ya wan rojan dike, du îstîsnayan tîne zimên. Yek ji van kesên ku tevlî malbatên çûyî yên cihû nebûye Yahûdî Yunus e. Heta dibêjin tam wê demê di kemînekê de tê kuştin û bi kuştina wî terka cihûyan ji bajêr lezgîntir dibe. Di vê koçberiyê de yekî din î îstîsna Ferho ye, dê di beşa "dîn"an de dor bê ser wî jî.
Kurdo Miheme
Kurdo Miheme, bi navê wî yê rastî Mehmet Altın nîveka salên 1940an li gundê Hacîdelê ku li ser navenda Diyarbekirê yê hat dinyayê. Piranî bi bedil û îşlik digeriya, şelwarê xwe carina li xwe dikir. Di şer û pevçûnê de tu kesî nikarîbû pişta wî deyîne erdê, gelek bûyerên wisa rû dabûn. Li gel vê qebedayiyek bû ku "camêrtiya" wî ji aliyê her kesî ve dihat teqdîrkirin. Helwesta wî li hember zaliman berbiçav bû.
Kurdo Miheme, li girtîgehên cuda demeke dirêj derbas kir. Firariyên wî jî hene. Bi awayê ku di dosyeya wî de dinivîse vî "mehkûmê har" ji ber ku li girtîgehê jî qebedayîtiya xwe dewam dikir, rêvebiriyên girtîgehan di'a dikirin bo wî neşînin cem wan.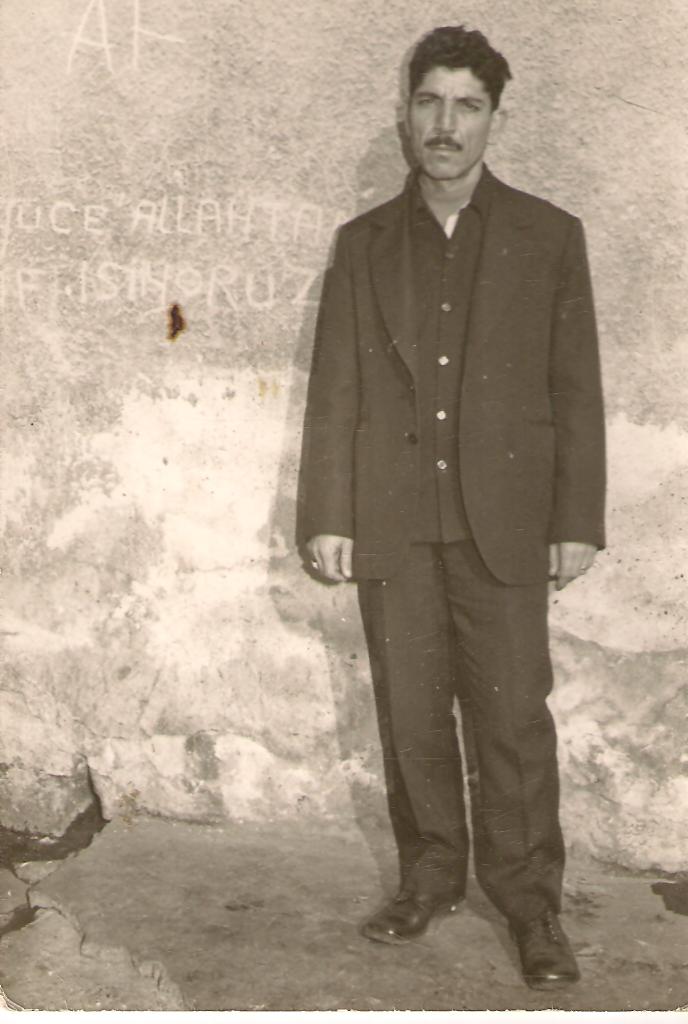 Cenneh Qado
Cenneh¹ Qado, sala 1938an li Diyarbekirê hêla Serayqapî gundê Arbedaşê hat dinyayê. Ji ber ku gava bi pev diçûn "cenneh" bi hostayetî bi kar dianî ev nasnav wergirtibû.
Qadoyê ku her tim bi bedil û îşlikê hevrîşîm digeriya piranî bi kurdî diaxivî. Ji ber ku bi merdanî û bêtirsiya xwe dihat nasîn, mirovan xwe jê vedida û rêz lê digirt. Tê gotin li wê taxê ku Cenneh Qado lê dijî bûyerên wekî dizî, xesb û destdirêjiyê lê çênedibûn. Bi wê navdar bû ku li her kesî dibû xwedî û bi wan kesan re pevçûn dikir ku hizûra taxê xera dikirin. Û dibêjin ewqasî dilbirehm bû ku gava li yekî dixist ew derman jî dikir.
¹ Cenneh: Darek e bo lêdanê.
Nemaze bo Diyarbekiriyên ku çanda taxan ji bîr nekirine û dixwazin nirxên mirovperwer biparêzin cihê "dînan" jî cuda bû. "Ketina nav refê dînan", windakirina aqil ji ber hin sedeman nayê wê wateyê ku mirov wan kesan ji civakê dûr bixe berevajî vê mirov li hember wan naziktir bû. Bi wan dînan re ku li kolanên bajêr gav bi gav digeriyan danûstandin kêm nedibû û mirov li pêdiviyên wan ên wekî xwarin, vexwarin, hêwirîn û cil û bergan miqate bû. Herçiqasî carina halê wan rewşa wan ji ya "normal" cuda bûna jî nedihatin hermonîkirin û ku pêwîst bûna dihatin hişyarkirin. Ev piranî îroroj jî wisa ye.
Tew tu dibêjî qey hinek dîn bi ser sêhra heqîqetê vebûne û bûne "ewliya". Keramet di gotina wan de heye, di hin mijaran de bi taybetî mirov guhê xwe dide wan. Hinek dibêjin ewliya bi çavên xwe xerabiyê dûr dixin, hinek dibêjin bereketê dixin xwarina feqîran. Hinek bawer dikin ku gava dînekî di xewna xwe de bibînin dê ji derd û kulan xilas bibin. Girîng e ku mirov qenciyê bi ewliyayekî bike û bikeve ber di'ayên wî.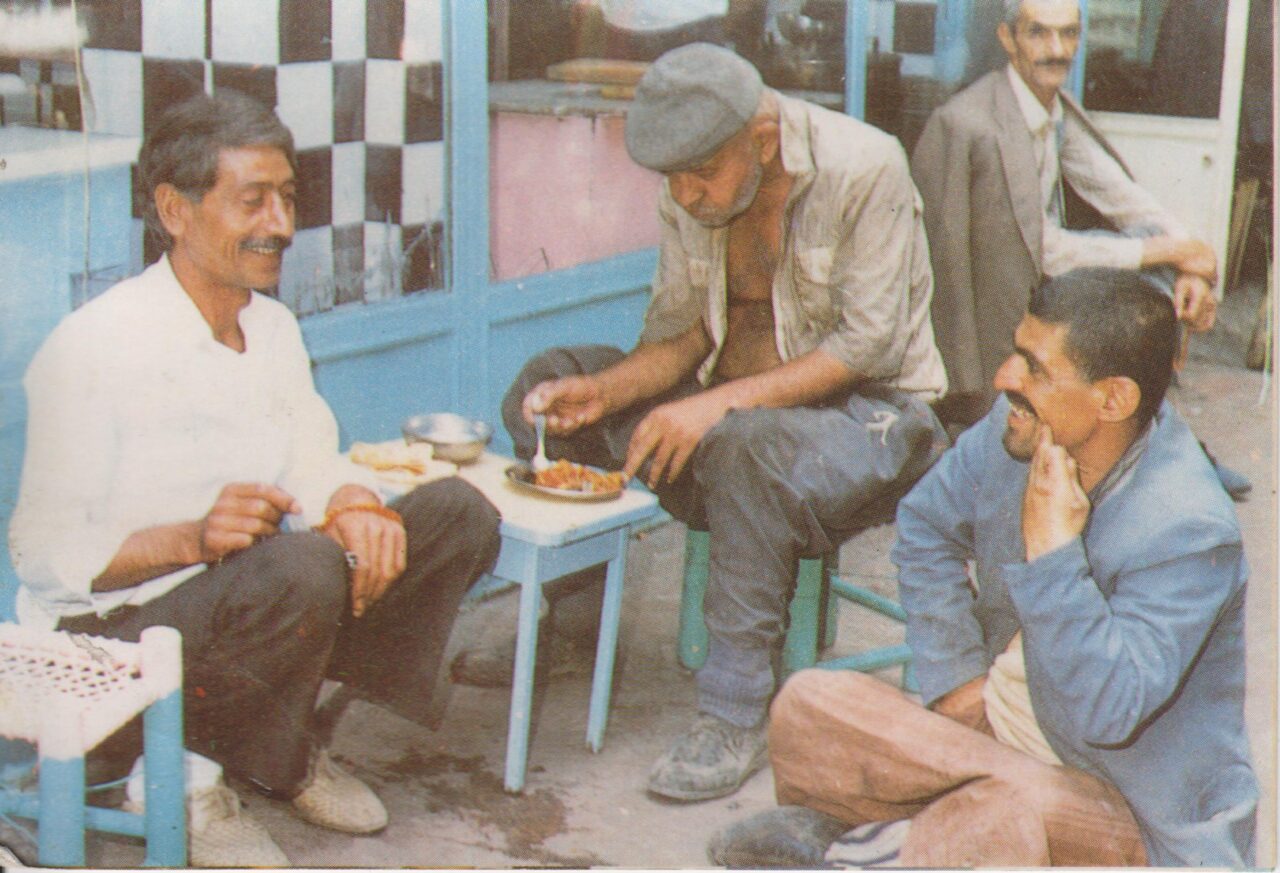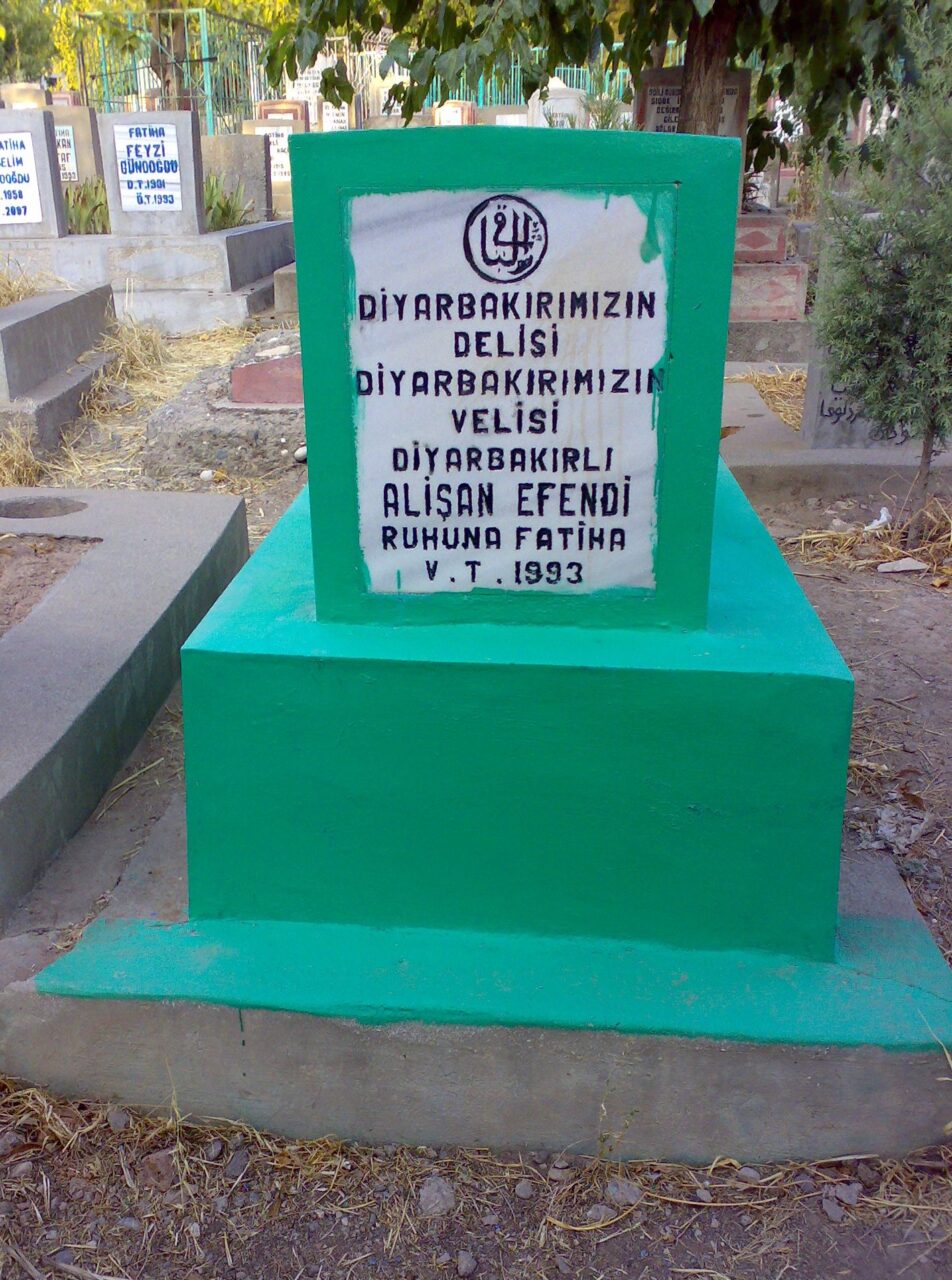 Elîşan
Elîşanê ku, di nav van kesan ê herî naskirî ye sala 1953an li Dêrikê çêbûye. Zivistanê kincekî dirêj, derpiyên dirêj ên jinan, qazax, çakêt li xwe dikir sola gizlewêt an jî cizme dixist lingê xwe. Havînê jî tenê bi fîstanekî digeriya. Gava li otobûsê siwar dibû şofêran pere jê nedistandin û ew didanîn cihê ku dixwest. Yek ji wan kesan bû ku Diyarbekiriyan digot xwedî keramet e. Hinekan digot me wî li Kabeyê dîtiye, hinekan digot di xewnê de em pê re axivîne. Girîng bû ku jê hez bikin û rêzê lê bigirin. Di malbata wî de hinek "dînên" din jî hebûn ku Diyarbekiriyan ji nêz ve ew dinasîn.
Elîşan, gava li hewşa mizgeftan digeriya û tabûtên li ser kevir ditînin; bo hinekan digiriya û ji hinekan hêrs dibû tew tif li wan dikir. Hê jî behsa wê girseyê dikin ku bo cenazeyê gihabûn hev. Li ser kêla gora wî "Dînê Diyarbekira me, Ewliyayê Diyarbekira me" dinivîse û di suhbetan de navê wî gelekî derbas dibe. Li gel serpêhatiyên wî ên rastî jî gelek çîrok jî derbarê wî tên gotin.
Çolo Miheme
Çolo Mihemeyê Diyarbekirî, nîveka salên 1920an hat dinyayê. Malbata wî hebû lê gava ji wan aciz dibû xwe diavêt kolanên bajêr. Digot ez bi cinan re axivîme û ji ber wê min mal terikandiye.
Çolo Miheme ji aliyê cil û bergan ve ne wekî tu kesan bû, havînê jî qazax li xwe dikir û bi ser de krawat gire dida. Bi wan mirovan re bextewar dibû ku rêz lê digirt û hez jê dikir. Gava zarokan bela xwe diforitiyê û ew diqeherand hêrs dibû lê bêhtir bi nêta xwe yî baş, bi rûgeşiya xwe dihat nasîn. Tew bi coşa xwe derdora xwe şên dikir. Siyaset bo wî mijareke girîng bû. Carina mîna siyasetmedarekî carina mîna nasekî siyasetmedaran diaxivî. Ecewît favoriyê wî bû. Bawermendiya wî ya dînî jî xurt bû.
Çolo Miheme, bi wê nexweşiyê re demeke dirêj micadele kir ku bi pizikekê dest pê kir û li hemû laşê wî bela bû. Sê çar mehan di nav dest û lingan de ma û piştre li gor hinekan sala 1999an, li gor hinekan sala 2000an rehmet kir.
Mihemedê Pasûrî
Mihemedê Pasûrî (Sofî Mihemedê Kanikî) li gundê Kanikê yê li ser Pasurê (Kanîka, İnkaya) ya navçeya Diyarbekirê hat dinyayê. Yekî girs, xurt û dilovan bû. Her gav şelwar li xwe dikir, sakoyê xwe yê dirêj tim û tim li xwe dikir. Darê dirêj ê di destê xwe de wekî gopalekî bi xwe re digerand û bi darê xwe li deriyê dikanan dida û di dil xwe de silav li esnafan dikir.
Wekî mirovekî xwedî keramet dihat dîtin û jê dihat hezkirin. Bi giştî kurdî û zimanekî mîzahî tercih dikir û yên li dora wî bi kêf guhdariya wî dikir. Gava navbera wî û kesekî xera dibû heta li hev nehatana ji bîr nedikir. Li statûya kesî, mal û milkê kesî nedinêrî çi bihatana ber devê wî bêtirs digot.
Delî Ferho
Mala Delî Ferhoya (Ferhoya Dîn=Ferhê) ji cihûyên Diyarbekirê li Xançepekê bû. Piştî sala 1948an, gava cihûyên ku jixwe ji destpêka sedsalê ve hejmara wan kêm bûbû koçî Îsraîlê kir, ew bi sedemek nediyar li wir mabû. Çiqasî li ber geriya bin jî ew ji ya xwe nehatiye xwar û nexwestiye dev ji Diyarbekirê berde.
Ferhê, jineke dilnazik bû ku zerera wê li tu kesî nedibû. Bi wê zeîfiya xwe ji sibehê heya êvarî li kûçeyên bajêr digeriya, carcaran bi dengekî bilind dikeniya û zûgotinok digotin ku tenê wê jê fêm dikir. Gava li bajêr hima bêje wekî cihûyekê tenê ma navekî nû jî ji xwe re dît: Selma. Margosyan dibêje, gava Taxa Cihûyan a kevin veguhastiye Taxa Qoreyê, Ferhê bi navê Selma Xanim dest bi falgiriyê kiriye û kolanên, malên, hêmanên bajêr bi awayê falgirekê jî geriyaye.
Delî Eyno
Delî Eynoyê (Eynoya Dîn) ku bi eslê xwe ereb bû, salên 1910an li Rihayê ji dayîka xwe bû. Li Diyarbekirê dihat nasîn û qîmet bo wê dihat dayîn lê tu kesî nizanîbû çawa, kengî hatiye bajêr.
Eyno, dixwazî bila kolan bêdeng bin dixwazî qerebalix guhê xwe nedida tu kesî û ber bi armanca xwe ve dimeşiya ku kesî nizanîbû çi ye. Tê zanîn ku berî aqilê xwe winda bike zewicî ye, zarokeke wê heye û piştî ku "ketiye nav refê dînan" mêrê wê xwestiye wê berde. Eynoya bi malbata xwe re mala xwe jî winda kiriye, li kolanan raket, pêdiviyên wê bi salan ji aliyê wan kesan ve hatin cih ku xwedî lê derdiketin. Demekê vegeriya Rihayê û li wî bajarî çû ser dilovaniya xwe ku lê çêbûbû.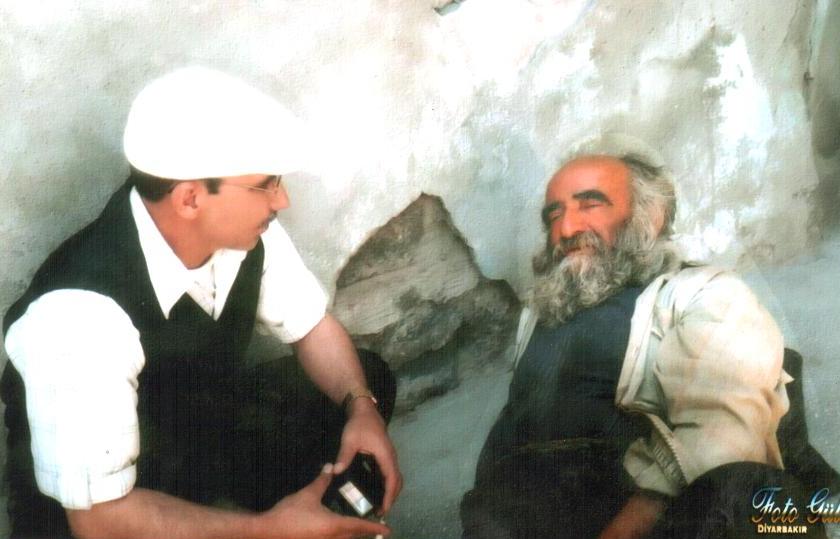 Delî Selîm
Delî Selîm (Selîmê Dîn), salên 1920an li gundekî li ser navçeya Çinarê ya Diyarbekirê hat dinyayê. Li pey "dînîtiya" wî çîrokeke evînê ya xortaniyê hebû. Gava dixwaze dotmama xwe ku aşiqê wê ye li ber zewaca bi yekî din re birevîne ji serê xwe bi giranî lêdanê dixwe. Bi vî awayî ji malbata xwe yî ku halê wan xweş e vediqete û xwe diavêje kolanên bajêr; di nav salan de "dînîtiya" wî giran bû.
Rojên wekî qeşayê jî bi şelwarekî qetiyayî û qazaxekî tenik digeriya, meşa wî ya ku tiştek ne xema wî ye û li hember sermayê wisa xwe digire hûrgiliyek bû ku ji bîra tu kesî nediçû. Carina li ser kevirekî rûdinişt li wir wextê xwe derbas dikir. Pêdiviyên wî yên wekî xwarin û vexwarinê ji aliyê bajariyên xweşbîn ve dihatin cih. Sedeqe qebûl nedikirin. Por û reha wî ketibû nav hev, pejmûrde û melûl lê şanaz bû. Tê gotin ku di awirên wî de dilkêşiyeke xerîb hebû.
Delî Yaşo
Delî Yaşo (Yaşoyê Dîn), salên 1970yî li Diyarbekirê hat dinyayê. Tê gotin ku serpêhatiyeke xerab dijî û aqilê xwe winda dike, lê ev bi temamî nayê zanîn. Bi cilên xwe yî qepalî, bi gavên xwe yî mezin li kolanan digeriya.
Diyarbekirî nemaze heyranê danûstandina wî ya bi kûçikan re bûn. Hez ji wê dikir ku ne kûçikekî garaneke piçûk a kûçikan wekî berxikan bide pey xwe û bigere. Di heman demê de tê gotin ku çîçik jî xwedî dikirin û xwarina xwe ya kêm bi wan re parve dikir. Gava hinekan diajot ser wî hêrs dibû û bi keviran dida pey wan. Ji ber ku Delî Yaşo her tim li nav bajêr digeriya hezkirî û xwediyên wî pir bûn.
Nivîs: Şeyhmus Közgün
Werger: Abdulsıttar Özmen
ÇAVKANÎ
• Gazi, M. (2013) Diyarbakır Kabadayıları Delileri ve Pışo Meheme, Lîs Yayınevi.
• Közgün, Ş. (2007) Sisler Korkular, Lîs Yayınevi.
• Margosyan M. (2018) Fıllaname, Aras Yayıncılık.
Di Tebaxa 2022yan de bi Abdulkadir Ayus re hevpeyvîneke dirêj hat kirin. Ahmet Can, Ramazan Pekyaman, Mehmet İrem, Selahattin Çiçek û Hamit ji bo çarçoveya vê beşê hevkarî kir.
BEŞA BÊ
KESÊN BI ÇAND Û HUNERÊ
MOHRA XWE LI BAJÊR
XISTINE Û DERBAS BÛNE